Category Archives:
Resenhas
Revisão de livros, filmes, peças de teatro, restaurantes, bebidas, musicas etc..
Livros
Resenhas
October 12, 2015 – 7:26 pm
.
You're Never Weird on the Internet by Felicia Day
My rating: 4 of 5 stars
This book is for Felicia Day fans, like myself. If you do not know her, you may not like it so much. It is a book about geeks, it's feared and typical way of thinking. The narrative is personal and very revealing of her thoughts and personality. I like the book, but I know it is not for everyone.
Este livro é para os fãs de Felicia Day, como eu. Se você não a conhece, pode ser que você não goste muito. É um livro sobre geeks, seus medos e sua forma típica de pensar. A narrativa é pessoal e muito reveladora de seus pensamentos e personalidade. Eu gosto do livro, mas eu sei que não é para todo mundo. Para quem não a conhece, segue um vídeo de promoção da sua série de internet: The guild.
.

Permalink
|
Comments Off

on Feito para os Fans
Livros
Resenhas
September 20, 2015 – 10:52 pm
Outro bom romance de Ernest Cline o autor do best-seller Jogador Número Um. É difícil comentar este livro sem passar spoilers. Mas posso dizer que se você gosta de ficção científica como Star Trek ou Star Wars e de invasões alienígenas e vídeo games que você vai gostar deste livro. O futuro próximo que o livro descreve pode ser discutível, mas ele suporta uma grande história e um final adequado. Uma coisa que eu não gosto é que, embora o autor termine o livro adequadamente, ele deixou algumas opções para sequências futuras de uma saga, e eu não gosto de sagas. Mas, definitivamente, vale a pena a leitura.

Armada by Ernest Cline
My rating: 5 of 5 stars
Another good novel from Ernest Cline the author of the best seller Ready Player One. It´s hard to comment this book without giving out spoilers. But I can say that if you like Star Trek or Star War, some alien invasions you are going to like this one. The future the book describes can be debatable but it supports a great story and a proper end. One think I do not like is that although the author do end the book, he left some options for future sequences of a saga, and I don't like sagas. But it's definitely a book worth reading. Totally recommended.
Permalink
|
Comments Off

on Resenha de Armada: A Novel
Livros
Resenhas
September 2, 2015 – 12:03 am
Alguns livros você gosta e nem sabe porque. São aqueles que conseguem chegar no fundo dos seus sentimentos, e dar voz a coisas que sozinho você não conseguiria descrever. Acho que é por isso que eu gosto dos livros do Haruki Murakami e, especialmente, deste.
Sputnik Sweetheart trata de amores impossíveis. Aqueles que de tão arrebatadores e improváveis você só pode se resignar e sobrevivê-los. O narrador e protagonista de tão perdido no seu amor, perde até a necessidade de ter um nome. Seu amor por Sumire (Violeta em japonês) e dela por uma outra mulher, os leva às aventuras que formam a narrativa princiapl do livro, mas que só servem para dar ambiente à verdadeira história que corre nos bastidores. Até o nome do livro guarda uma boa tradução para este tipo de amor. Spunik que quer dizer companheiro de viagem em russo, mas é o nome de um satélite, uma estrela artificial. E o que é um amor platônico senão algo lindo, querido e distante que não se consegue alcançar.
O livro ainda guarda outras características típicas dos textos de Murakami, como a referência às músicas clássicaa, um pouco de fantasia e aquela angústia já tradicional. Ele é mais um bom exemplo da boa obra deste fantástico autor. Uma leitura obrigatória para quem já é fã, e um bom começo pra quem ainda não é.
Sputnik Sweetheart by Haruki Murakami
My rating: 5 of 5 stars
Some books you like and do not even know why. They are the ones who play with some feelings at the botton of yourself, and give voice to things that alone you could not describe. While being recognized in the history is when the reader is conquered. I think that's why I like Haruki Murakami's books, and especially this one. Sputnik Sweetheart comes with impossible loves. Those who are so sweeping and impossible that you can only resign and live them. The narrator and co main protagonist is so lost in your love, that he loses his own name. His love for his long lasting friend Sumire (Violet in Japanese) that is in love with another woman leads to the many adventures that are described in the book. The book's name keeps a good translation for this kind of love: Sputnik means traveling companion in Russian, and what a platonic love is but a beloved companion on the journey of life. The book still holds other features typical of Murakami´s novel: as the reference to classical works, a little fantasy and the traditional distress It is another good example of the excelent work of this author. A must-read for anyone who is already a fan, and a good start for those who are not yet.
Permalink
|
Comments Off

on Review do Sputnik Sweetheart de Haruki Murakami
Livros
Resenhas
August 19, 2015 – 10:58 pm
<
O Irmão Alemão by Chico Buarque
My rating: 3 of 5 stars
(pt) Do Chico eu já tinha lido BUDAPESTE e gostado muito. Talvez minhas expectativas estivessem muito altas, mas não gostei deste livro. A leitura é boa e o texto que não é tão fácil agrada, já a história não. Há uma certa desconstrução dos personagens da época da ditadura, o militante vira um "mulhertante" já que o seu maior interesse se encontra no sexo oposto. A descrição do pai e da família do Chico é boa, mas depois a narrativa me perdeu, tanto que demorei para acabar um livro relativamente curto.
(en) From Chico I had read BUDAPEST and liked it very much. Maybe my expectations were too high, but I didn´t like this book. Reading is good and the text, that is not so easy, has pleased me, althogh the story did not. There is a certain deconstruction of the characters during the Brazilian dictatorship, the militant becomes a "ladies man" as their greatest interest lies in the opposite sex. His father and the Chico's family description is good, but after that the story lost me, so much that it took time me to finish a relatively short book.
Permalink
|
Comments Off

on O Irmão Alemão : comentários
Cultura Geek
Livros
Resenhas
August 9, 2015 – 6:40 pm
Permalink
|
Comments Off

on Minha Estante no Skoob
Livros
Resenhas
August 9, 2015 – 6:09 pm
Este é o livro mais recente de Peter Clines, o autor do bestseller de scifi fantasia "14", que eu já comentei antes. (http://www.eduardodeboni.com/blog/?p=1219). Ele tem os mesmos ingredientes de "14": portais multidimensionais, portas secretas, universos alternativos e pouco de romance. O personagem principal "Mike" tem quase super poderes com sua memória fotográfica, que faz com que o livro seja um livro super-herói. Eu li podem povos reclamando sobre o final do livro, mas eu não achei tão ruim. É um pouco estranho quando comparado com o resto , mas pelo menos coloca um fim ao livro, e também deixa espaço para uma sequência. Se você gostou de 14 você vai gostar do The Fold também, se você ainda não leu 14 você pode ler este primeiro, sem problemas. Se você área um fã de scifi você pode achar difícil acreditar em algumas premissas do livro, mas se você aceitá-las o livro vai lhe dar algumas horas de diversão, eu recomendo.
The Fold by Peter Clines
My rating: 4 of 5 stars
This most recent book of Peter Clines, the author of the best seller fantasy scifi book "14", I read before. This one has the same ingredients of "14": multidimensional portals, secret doors, alternative universes and some light romance.. The main character "Mike" has almost super powers with his photographic memory, that makes the book also a super-Hero book. I read may people complaining about the end of the book, but I did not find it so bad. It is a little strange when compared to the rest of the book, but at least it put a end to the book, but also leave space for a sequel. If you like 14 you will like The Fold too, if you have not read 14 you can read this one first. If you area a really scifi fan you may find hard to believe in some assumptions of the book, but if you accept them the book will give you a few hours of fun , I recomend it.
Permalink
|
Comments Off

on Entre na Dobra, não há perigo
Livros
Resenhas
July 28, 2015 – 10:15 pm
Resenha de Dead Wake: The Last Crossing of the Lusitania
by Erik Larson
Este é o terceiro título que eu li de Erik Larson, mas, infelizmente, é o menos interessante. Seu estilo é o mesmo: ele constrói um livro de não-ficção com uma narrativa de ficção. Os fatos que usa são todos baseados em documentos existentes, mas a história é contada como se estivéssemos lá, na cena do crime. O que deu errado, na minha opinião, com este livro é que o assunto não é tão interessante como as outras anteriores: "O Jardim das Bestas" e "O Diabo na Cidade Branca" A vida em um barco de luxo. no início do século 20 e o início da Primeira Guerra Mundial não são tão atraentes como a II Guerra Mundial ou Os Segredos de Um serial killer em Chicago. O título já diz que o barco vai afundar e as pessoas podem morrer nele . Acho que neste livro o autor estava mais centrado nos documentos e na narrativa perdeu o encanto das anteriores. Se você gosta do estilo pode ser que encontre uma boa leitura, se você não conhece o autor eu recomendo que você comece com "O Jardim das Bestas", um livro muito melhor.

Dead Wake: The Last Crossing of the Lusitania by Erik Larson
My rating: 2 of 5 stars
This is the third title I read from Erik Larson, but unfortunately this is the least interesting one. His style is the same: he constructs a nonfiction book with a narrative of a fiction. The facts he uses are all based on existing documents, but he tells the history as if we were there at the scene. What went wrong, in my humble opinion, with this book is that the subject is not as interesting as the other previous ones: "The Garden of the Beasts" and the "The Devil in the White City". The life in a luxury boat in the beginning on the 20th century and the starting of the World War I are not as appealing as the World War II or os segredos de um serial killer in Chicago. The title already tells you the boat will sink and the people may die in it. I think in this book the author was more centered on the documents and the narrative lost the charm of the previous ones. If you like the style may be you find a good read, if you do not know the author I recommend you start with "The Garden of the Beasts" a much better book.
Permalink
|
Comments Off

on Afundando o Lusitania de Novo.
Livros
Resenhas
June 9, 2015 – 7:02 pm
Com trechos adaptados de How Humankind Conquered the World by Charles Mann, Wall Streel Journal, Feb. 6, 2015
Resumir a história da humanidade em um livro já é um grande desafio. Fazer isso com algum rigor científico é ainda maior, mas o livro Sapiens: A Brief History of Humankind de Yuval Noah Harari cumpre com grande desenvoltura esta tarefa. Nós aprendemos na escola que a história é uma sequência sem fim de nomes e datas. "Sapiens" é uma antítese deste tipo de história, com vários conceitos e esquemas interessantes e frases irônicas. O título do livro é uma lembrança que, a muito tempo atrás, o mundo era dominado por uma dúzia de espécies, das quais só a Homo Sapiens sobreviveu. No livro a trajetória da espécie é traçada pela sucessão de três revoluções: a cognitiva (quando nos tornamos espertos), a agricultural (quando moldamos a natureza a nosso favor) e a científica (quando ganhamos um poder perigoso e nos tornamos deuses). A humanidade, prediz Harari, vai ver mais um evento épico, quando nós seremos banidos nos próximos séculos. Seja porque ganhamos poderes de deuses e nos tornaremos irreconhecíveis para nós mesmos, ou porque iremos nos destruir por um desarranjo provocado no meio ambiente.
Ninguém pode ser um especialista em tudo, e não é de se surpreender que algumas conclusões podem ser questionadas ou terem erros. Mas há muito alimento para o pensamento e para a discussão, por exemplo com a afirmação que a agricultura permitiu o surgimento das sociedades de milhares e milhões de pessoas, e a dificuldade e o desconforto de uma espécie que se criou em pequenas comunidades nômades para se adaptar em grandes cidades impessoais . Pra fazer isso Harari destaca a capacidade de comunicação, que permitiu inventar mitos comuns ou ficções. Os três mais importantes sendo o dinheiro, a religião e o império, todos eles que permitiram a união das pessoas pelos tempos e lugares. Achei muito interessante e altamente polêmico o autor dar a mesma origem para a religião, o dinheiro e para os governos. Mas a clareza dos argumento e a lógica da análise é surpreendente.
O livro passa pelas revoluções agricultural e científica e tenta fazer uma previsão realista de para onde a humanidade se dirige. E a conclusão é no mínimo assustadora. Nós sempre esperamos mais e não ficamos satisfeitos com nossa condição material e com os objetos temos hoje que, provavelmente, iriam encantar nossos avós. "Nossa intolerância para a inconveniência e o desconforto" está são enraizada que "nós podemos sofrer hoje muito mais dor que nossos ancestrais jamais sofreram". O crescimento científico e tecnológico, a diferença e desigualdade social podem impor diferenças e desejos que tornarão a vida sem eles insuportável. Já é sabido que a criminalidade está associada mais a desejos e diferenças sociais do que à fome ou sobrevivência. O que irá acontecer quando o crescimento científico e tecnológico aumentar?
Pra piorar ainda mais, a modernidade trouxe o colapso da família – "a revolução social mais momentosa que já se abateu sobre a humanidade" – e tem acabado também com o consolo da religião. Se as pessoas nos tempos medievais "acreditavam na promessa de eterna felicidade na vida após a morte" o livro sugere que, "eles podem, muito bem, terem vivido as suas vidas como muito mais significativo e valor do que as pessoas seculares modernas, que a longo prazo não podem esperar nada, além do mais completo e sem sentido esquecimento."
Eventualmente vamos mudar tanto que o Homo sapiens deixe efetivamente de existir. Os nossos descendentes podem se tornar irreconhecíveis para nós. A única coisa que pode parar esta mudança, na opinião de Harari, é a possibilidade de uma catástrofe ambiental, que também pode acabar com nossa espécie. Você pode discordar das afirmações do livro, imaginar que há erros nas suas deduções, mas não vai ficar impassível. A leitura vale muito a pena, talvez seja o melhor livro que eu li esse ano.
Sapiens: A Brief History of Humankind by Yuval Noah Harari
My rating: 5 of 5 stars
Summarize the history of mankind in a book is a big challenge. Doing this with some scientific rigor is even higher, but the book Sapiens: A Brief History of Humankind Yuval Noah Harari fulfill this task with great ease. We learned in school that the history is an endless sequence of names and dates. "Sapiens" is the antithesis of this kind of history, with several interesting concepts and schemes and ironic quotes. The book's title is a reminder that, a long time ago, the world was dominated by a dozen species, of which only Homo sapiens survived. In the book the history of the species is drawn by the succession of three revolutions: the cognitive (when we become smarter), agricultural (when we mold nature to our advantage) and scientific (when we won a dangerous power and become gods). Humanity, Harari predicts, will see another epic event when we will be banned from the world in the next few centuries. It's either because we won powers of gods and become unrecognizable to ourselves or because we will destroy ourselves by a breakdown caused in the environment.
No one can be an expert in everything, and it's not surprising that some conclusions can be questioned or have errors. But there is much food for thought, for example with the statement that agriculture allowed the emergence of societies of thousands and millions of people, and the difficulty and discomfort of a species that has been created in small nomadic communities to adapt in large impersonal cities.
Harari highlights the communication skills that allowed invent common myths or fictions. The three most important being: money, religion and empires, all that allowed the union of people in different time and places. I found it very interesting and highly controversial the author give the same source for religion, money and governments. But the clarity of argument and logic is astounding.
The book goes through agricultural and scientific revolutions and attempts to make a realistic forecast of where humanity is headed. And the conclusion is frightening in the least. We always expect more, and we are not happy with our material condition and with the objects we have today that probably would delight our grandparents. "Our intolerance to the inconvenience and discomfort" is so rooted that "today we can suffer much more pain than our ancestors ever experienced." Scientific and technological growth, difference and social inequality can impose differences and desires that make life unbearable without them. It is known that crime is more associated with more social desires and differences than hunger or the need to survival. What will happen when scientific and technological growth increase these needs?
To make matters worse, modernity brought the collapse of the family – "the social revolution more momentous than ever befell mankind" – and has also finished with the consolation of religion. If people in medieval times "believed in the promise of eternal happiness in the afterlife" the book suggests, "they may very well have lived their lives as more meaningful and value that modern secular people who long-term can not expect anything but the most complete and without forgetting sense. "
Eventually we will change so much that Homo sapiens effectively ceases to exist. Our descendants may become unrecognizable to us. The only thing that can stop this change, according to Harari, is the possibility of an environmental catastrophe, which can also end our species. You may disagree with the book's claims, imagine that there are errors in your deductions, but will not stand idly by. Reading "Sapiens" is very worthwhile, it is perhaps the best book I read this year.
Permalink
|
Comments Off

on Resenha do Livro Sapiens – A história como deveria ser ensinada
Livros
Resenhas
March 5, 2015 – 11:41 pm
Este é definitivamente um livro para quem gosta de vídeo games. A história se passa em uma Terra de 2044 com recursos naturais esgotados e empobrecida, em uma atmosfera muito parecida com a de Blade Runner, mas onde Wil Wheaton e Cory Doctorow são políticos. O protagonista, Parzival, assim como a maioria dos habitantes, passa a maioria do tempo no OASIS um sistema de realidade virtual onde as pessoas estudam, se encontram e principalmente buscam as chaves para vencer um grande game e herdar o OASIS e a fortuna do seu criador. A história se passa como a evolução de um game, e é recheado de referências da cultura pop dos anos 80 e 90 como o conjunto Rush, os filmes Blade Runner, Back to the Future, Ghostbusters, Star Trek, Star Wars, Indiana Jones, Monty Pyton, School House Rock, e muitos outros. Acabei de ler que o autor está lançando um novo livro chamado Armada, que já está na minha lista de leitura, por causa do tanto que eu gostei deste livro.

Ready Player One by Ernest Cline
My rating: 5 of 5 stars
This is definitely a book for anyone who loves video games. The story is set in an 2044 Earth with depleted natural resources and impoverishment. It is a very similar atmosphere to that of Blade Runner, but where Wil Wheaton and Cory Doctorow are in politics. The protagonist, Parzival, as well as most of the inhabitants, spends most of the time in OASIS a virtual reality system where people date, work, study, and are mainly seeking the keys to win a big gameprize is to inherit the OASIS and the fortune of its creator. The story goes like the evolution of a game, and is filled with pop culture references 80 and 90 as music by the Rush, and movies like the Blade Runner, Back to the Future, Ghostbusters, Star Trek, Star Wars, Indiana Jones, Monty Pyton, School House Rock, and many others. I just read that the author is releasing a new book called Armada, which is already on my reading list, because of the much I liked this book.
Permalink
|
Comments Off

on Jogar ou ler? porque não fazer os dois?
Livros
Resenhas
February 10, 2015 – 9:15 pm
O Incolor Tsukuru Tazaki e seus anos de peregrinação é mais um livro em que Murakami apoia a narrativa nos sentimentos e nas feridas do passado do seu personagem principal. Na época da escola, ele morava com a família em Nagoia e tinha quatro amigos inseparáveis. Cada um dos seus amigos trazia uma cor no sobrenome: os meninos eram Akamatsu – pinheiro vermelho, Ômi – Mar azul, e as garotas Shirane – raiz branca e Kurono – campo preto. Somente o nome de Tsukuro não trazia uma mensão de cor, mas o significado do que "faz coisas". Ele se sentia parte do grupo até ser cortado, expulso deste círculo íntimo, o que fez se fechar em si mesmo, temeroso de buscar uma explicação. Com essa dor e o sofrimento o protagonista ganha a empatia do leitor e com ela a curiosidade para saber a razão da ferida e a vontade de acompanhá-lo na peregrinação para libertá-lo. O texto reflete o ritmo da peça musical citada com frequência no texto: Franz Lizst – Le Mal du Pays. O livro, assim como a música transmite para o seu ouvinte/leitor um texto/melodia lento, melancólico, algumas vezes desesperado, mas que também pode ter notas de esperança e até alguma alegria. Neste livro encontramos pouco da fantasia e alucinações mais presentes nos outros livros do autor, mas temos mais do mesmo tema urbano, moderno, que gira em torno das relações humanas incluindo sexo, amor e a morte. Mais um ótimo livro de Haruki Murakami para os que já são fãs do autor, ou para os que ainda vão ser. Recomendo.
GoodReads Review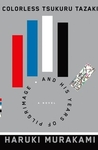 Colorless Tsukuru Tazaki and His Years of Pilgrimage by Haruki Murakami
My rating: 5 of 5 stars
A great introduction to the world of Murakami
Another book in which Murakami supports the narrative with feelings, and wounds of the past of your main character. In high school, he lived with his family in Nagoya and had four inseparable friends. Each of your friends brought a color from the surname: the boys were Akamatsu – red pine, Omi – Blue sea, and the girsr are Shirane – white root and Kurono – pitch black. Only the name of Tsukuro did not bring a color dimension, but what meaning "that do things". He felt part of the group until be cut, kicked out of this inner circle, which made him close into himself, afraid to seek an explanation. With this pain and suffering the protagonist wins the reader's empathy, the curiosity to know the reason of the wound, and the will to accompany him on the pilgrimage to freedom. The text reflects the pace of a frequently quoted piece of music: Franz Liszt – Le Mal du Pays. The book, as well as the music conveys to your listener/reader a text/melody in a slow melody, melancholy, sometimes desperate, but which may also have notes of hope and even some joy. In this book we find little of the fantasy and hallucinations of the author's other books, but we have more of the same urban, modern theme, which revolves around human relationships including sex, love and death. Another great book by Haruki Murakami for those who are already fans of the author, or for those that are still to be. Highly Recommend.
Permalink
|
Comments Off

on Uma ótima introdução ao universo de Murakami.